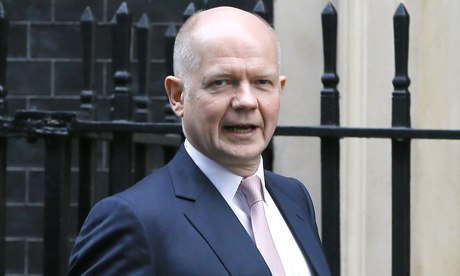 William Hague has dismissed a bid to trigger prosecutions of British politicians and senior military figures over alleged war crimes in Iraq.
The Foreign Secretary said there was no need for the International Criminal Court (ICC) to investigate allegations of UK forces abusing and killing detainees in their custody.
There had been no "systematic" torture by troops and individual cases had either already been dealt with by the British authorities or were the subject of probes, he insisted.
The head of the army, General Sir Peter Wall, ex-defence secretary Geoff Hoon, and former defence minister Adam Ingram are among those named in a 250-page dossier sent to the ICC, according to the Independent on Sunday.
Human rights lawyers have drawn on the cases of more than 400 Iraqis, arguing they represent "thousands of allegations of mistreatment amounting to war crimes of torture or cruel, inhuman or degrading treatment".
They describe alleged incidents ranging from "hooding" prisoners to burning, electric shocks, threats to kill and "cultural and religious humiliation".
Other forms of alleged abuse between 2003 and 2008 include sexual assault, mock executions, and threats of rape, death, and torture.
The formal complaint to the ICC was lodged by Public Interest Lawyers (PIL) and the European Centre for Constitutional and Human Rights (ECCHR).
It calls for an investigation into the alleged war crimes under Article 15 of the Rome Statute.
The dossier says "those who bear the greatest responsibility" for alleged war crimes "include individuals at the highest levels" of the British Army and political system.
UK military commanders "knew or should have known" that forces under their control "were committing or about to commit war crimes".
It also argues that "civilian superiors knew or consciously disregarded information at their disposal, which clearly indicated that UK services personnel were committing war crimes in Iraq".
However, Mr Hague told Sky News' Murnaghan programme:
"These allegations are either under investigation already or have been dealt with already in a variety of ways, through the historic abuses system that has been established, through public inquiries, through the UK courts or the European courts.
"There have been some cases of abuse that have been acknowledged and apologies and compensation have been paid appropriately.
"But the government has always been clear and the armed forces have been clear that they absolutely reject allegations of systematic abuses by the British Armed Forces.
"The British Armed Forces uphold high standards and they are the finest armed forces in the world."
Asked if the ICC should respond to the complaint by saying Britain was already dealing with the issues, Mr Hague said:
"That is what they should say.
"They will look at anything that is sent to them, but this is being dealt with properly in the UK."
Former foreign secretary Jack Straw said he was surprised about the allegations as they were not included in the inquiry led by Sir Peter Gibson into treatment of detainees, which published a report last month.
The Labour MP told BBC One's Andrew Marr Show: "I have not seen the dossier, it's the first I knew about it when I too read about it I think in the Independent on Sunday.
"I'm slightly surprised about this because there's been this huge investigation under Sir Peter Gibson, the interim report of which was published just before Christmas, and that was designed to look at all these allegations against the United Kingdom government and serving army and intelligence officers, and I don't recall from very careful study of that report that only these allegations were included.
"I mean that's my reaction to it and I can't really make any further comment on it until I see the document."
Lawyers at the Berlin-based ECCHR have been litigating against American military and civilian officials over alleged illegal interrogation policies on behalf of Iraqi and Guantanamo detainees who suffered torture and other crimes while in US detention.
PIL is currently acting for more than 1,069 former detainees and surviving relatives who allege that they or their family members were unlawfully detained, tortured, or killed by UK service personnel in Iraq.
The firm represented the family of Baha Mousa and is also representing alleged victims of mistreatment in Iraq at the long-running Al-Sweady Inquiry into incidents after the Battle of Danny Boy in southern Iraq in May 2004.
It has also been behind attempts to force the Government to hold a wider inquiry into general allegations of unlawful killing and abuse by UK troops.
Last year, High Court judges said a "new approach" was required relating to the Government's inquiry into the allegations, which is currently being carried out by the independent Iraq Historic Allegations Team (IHAT).
In May the judges called for mini-inquiries, akin to inquests, to take place in possibly scores of cases to fulfil the requirements of Article 2, which relates to the obligation to investigate suspicious deaths involving the state.
The judges were told that there might be as many as 150-160 cases involving deaths, as well as 700-800 involving mistreatment of civilians in breach of Article 3 of the European Convention on Human Rights, which prohibits inhuman and degrading treatment.
Original article written by and sourced from – bfbs.com